The latest edition of Signals is back from the printers. If you'd like us to send you a copy, leave your details here. We'll keep giving them away until we run out.
Signals is a collection of essays, curated by Public Digital and written by leaders involved in digital transformation across the world. This is our fifth and most ambitious edition yet. We're doing more work than ever with French and Spanish speaking clients, so this time, we're publishing Signals in French and Spanish as well as English. Thank you to our close partner DIAL who made this possible for us to be more inclusive and reach more people.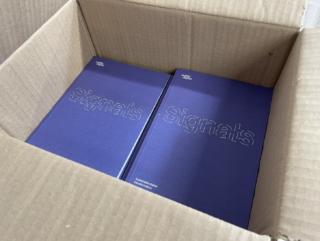 'Sustainability in digital transformation' is the theme for this edition of Signals.
We've entered a third year of a pandemic that has highlighted huge inequalities between individuals and nations. The climate crisis continues to threaten the wellbeing of populations worldwide. The questions surrounding how we can responsibly use digital transformation to help with the big issues felt like an obvious choice of theme this time.
But what is sustainability exactly? And what does it mean in the context of digital transformation? For many, it has become a buzzword. But for our contributors, sustainability is about designing inclusive services, maintaining digital public goods, investing in cyber capacities, ensuring digital sovereignty, protecting the environment or building teams.
And because sustainability is a global challenge, we've asked for contributions from all over the world: India, Indonesia, Ivory Coast, Mauritius, Mongolia, Rwanda, Sierra Leone, Tunisia, the United Kingdom, the United States and Switzerland.
Here's the list of the essays you can find in Signals: Sustainability in digital transformation: