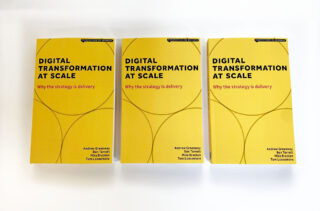 We've got a new book out. It's available to buy now direct from the publisher, from Amazon, or Book Depository.
When we wrote the first edition of Public Digital's book 3 years ago, there were a few things we thought would happen.
We thought that more countries around the world would set up digital service teams, following the path of GDS, USDS, and others. And sure enough, they did – in places as different as Madagascar and Nova Scotia. We also thought that some companies would follow the same path, while others would succumb to the giant snail of digital disruption.
What we didn't expect was a pandemic that would accelerate existing trends towards internet-era ways of working so dramatically. Parts of society that had previously lacked the impetus to change – healthcare and higher education, for example – were given little choice. Practitioners that had long advocated for being agile and multidisciplinary saw their moment, and many seized it.
The second edition has been updated to include some of those stories. It goes into more detail about which institutions had a more effective digital response to covid-19, and why. It also talks about some of the topics that were emergent when the first edition was published, but now loom larger in a digital team's thoughts: things like digital sovereignty, inclusivity and growth, and how to structure the data underpinning the whole edifice.
We also wanted this new edition to reflect the passing of time. GDS is 10 years old in December. It has done a huge amount in that decade, and changed a lot too. While it has inspired many, the trajectory it has followed has not always been smooth or predictable. We've tried to pick out what lessons newer digital teams in government can take from the UK, so they can plan for some of the known unknowns. What happens when ministers change, practitioners move on, and you're seen as part of furniture rather than the next new thing?
That said, this isn't a brand new book. Much of what we wrote in 2018 is still just as relevant, so we've left it alone. Pandemic or not, digital transformation is still a very difficult thing to do well. Plenty of companies – and countries – have still not really reached the start line.
Before you can make a great thing, you need to work in the right way. And before you work in the right way, you need to create the conditions inside your organisation to be allowed to work in the right way. Covid-19 provided a temporary licence for those conditions to emerge in some places, and for teams to prosper under pressure – that is very hard work. Making those conditions the norm when the crisis clears and there are comfier-looking alternatives to sink back into – that is just as hard.
We hope this book will help those wrestling with those challenges; challenges that have never been more important to address.
Digital Transformation at Scale (second edition) available to buy direct from the publisher, from Amazon, or Book Depository.